The 2019 Core Course on Security Policy focuses on digitalization and the Baltic region.
The nomination process is open for international participants until early December.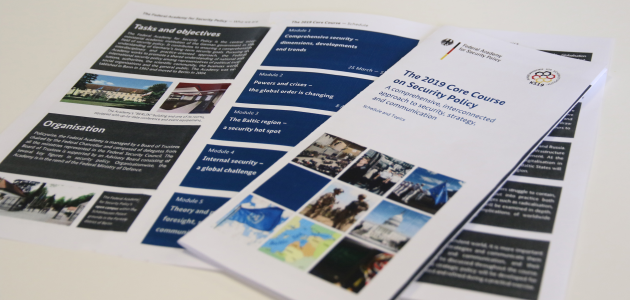 The Core Course on Security Policy is the most multifaceted advanced training course on security policy provided on behalf of the German Federal Government. In 2019, it is held from 25 March to 21 June. It teaches a comprehensive understanding of security and focuses on strategic thinking to prepare participants for national and international assignments as key decision-makers.
The target group are young senior officials from the German federal and state ministries, security services, business and society, academia, the media, politics, and from partner nations.
The focus of the 2019 Core Course is on digitalization and the Baltic region. Digitalization is a mega trend that affects nearly all parts of life, society, and politics. The Baltic region is a hotspot where NATO, Russia, and neutral states find themselves in close interaction. In addition, different sections of the population and critical infrastructure create a highly sensitive setting, where many facets of security politics can be experienced first hand.
Heads of departments, agencies, organizations, and companies have been invited to nominate participants to the 2019 course. The nomination process closes in early December.
Further details can be found in the flyer available online.