In order to promote young professionals, the "Young Leaders in Security Policy" were established in April 2015 as a joint project of the Federal Academy for Security Policy and the Association of Friends of the Federal Academy.           
The aim of the group is to involve its members in the work of the Federal Academy and thereby provide them with a practical understanding of security policy. Another objective of the initiative is to foster the networking among young professionals.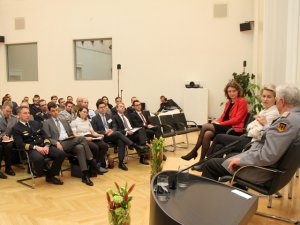 Regular meetings allow the group members to exchange views on topical issues of German and international security policy and to contribute with their respective expertise in the security policy debate.
The membership into "Young Leaders in Security Policy" is based on personal invitation only. It regularly ends after three years.
The Young Leaders in Security Policy are made up of young professionals from politics, sciences, public administration, business, churches and armed forces.