Thursday, 25. January 2018
On 17 January, young executive personnel from the Foreign Office, Ministry of Defence, and Ministry of Development met for the annual "Get-Together" at the Federal Academy.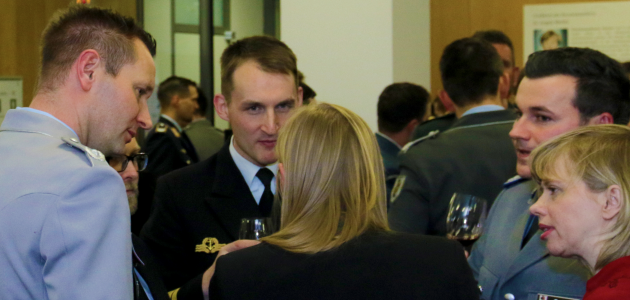 "When people argue about security policy, they need to know what they're talking about", said Dr Karl-Heinz Kamp, President of the Academy, at the start of this year's event. In these times of multiple global crises, he added, it was all the more important to debate matters of security policy at an interministerial level in order to find consensus.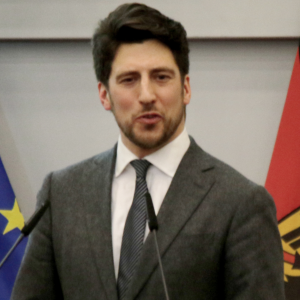 Dr Martin Schuldes, Head of Faculty/Teaching and Training at the Academy, stressed the need to improve cooperation on security policy at an early stage by building a network of key personnel who can answer the following questions: What are other ministries and agencies doing? How is the staff at those ministries and agencies going about their work? And where can I find my point of contact?
Broadening horizons
This year's Get-Together had a new format, specifically aimed at providing the participants (approximately 170 in total) with even more opportunities to talk informally and get to know one another. Taking part this year were: participants from the 72nd Attaché Training Course of the Federal Foreign Office; participants from the 13th Armed Forces-Wide General/Admiral Staff Officer Course of the Ministry of Defence; and desk officers from the Ministry for Economic Cooperation and Development. All are being prepared to work as leaders in a variety of subject areas, activities, and places around the world.
The speakers from the three ministries began with a light-hearted look at some of the persistent stereotypes associated with their institutions, such as the gruff officer, the stuffy diplomat, or the dreamy development officer. The subsequent getting-to-know-you phase helped to dispel those stereotypes, allowing participants to gain new insights and make new contacts.
A familiar event in a new format
Another group at the event were the "Young Leaders in Security Policy", whose chairman, Christian Klein, gave a briefing on the aims and activities of this professional support format offered by the Academy. The group regularly accepts a new intake of young leaders from the areas of politics, science, government agencies, and civil society, and gets them involved in the work of the Academy, giving them practical insights into the world of security policy.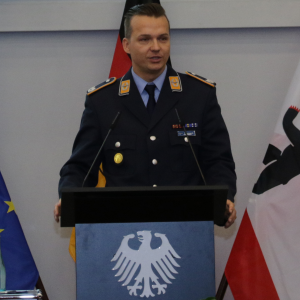 Thanks to the determination of the three participating ministries to improve networking among their personnel, the Get-Together has become firmly established as the first event on the Academy's annual conference schedule. Participation is restricted to members of the relevant courses and career paths.
Authors: Janina Wietschorke and Jana Müller,
translated by the Federal Office of Languages.