On 2 May 2016, a delegation from Pakistan's National Defence University visited the Federal Academy for Security Policy to learn about German foreign and security policy and the Federal Academy's educational mission.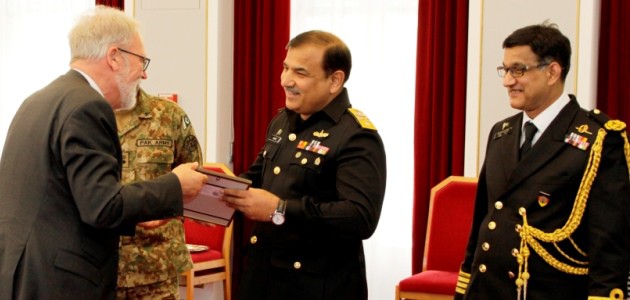 Focusing on political and strategic concepts of national security and defence, the Pakistan National Defence University considers itself a center for science and research. Therefore the English working papers of the Federal Academy presented at the Berlin Hall's foyer immediately sparked great interest: "Your Working Papers are most current".
When the Director of the Federal Academy, Colonel Hahndel, explained to the delegation that the Academy is neither a think tank nor a National Defence University, the visitors were surprised and asked a lot of questions regarding its institutional character. Together with Thomas Wrießnig, Vice President of the Federal Academy, they subsequently discussed the principles of German foreign- and security policy and assessed the German political "footprint" in past and current crises.
The Pakistan National Defence University has been visiting Germany with a training course annually for several years. The visit to the Federal Academy is an integral part of the programme.
Author: Volker Berding