As Dr Kamp, President of the Federal Academy for Security Policy mentioned at the start of the event, strategic foresight deals with "possible, desirable, but also surprising futures". The spatial proximity as well as the complexity and dynamics of the developments on the African continent make it necessary for Germany and Europe to be better prepared for the future and – where possible – to actively shape it. For this purpose, old patterns of thinking must be broken – the Workshop Day offered an excellent platform to do so.
Talking to Africa, not about Africa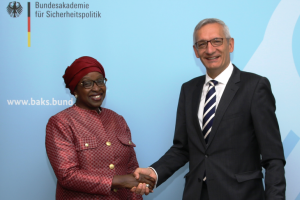 True to the motto of "Do not talk about, but to Africa", African experts, with Ms Bineta Diop (African Union Special Envoy for Women, Peace and Security) leading the way, Ms Nanjira Sambuli (World Wide Web Foundation) and Ms Ethel Cofie (IT expert and founder of Women in Tech Africa) as well as other African voices attending via videolink were sharing their experience and perspectives during the Workshop Day. Diop warned that the opportunities the African continent offers, i.e. the abundance of natural resources, traditional knowledge, distinct community spirit, the young population and the potential of women, have so far not been made use of or only to a very limited extent to improve living conditions. "Africa is a rich continent, but its people are still poor". Diop stressed the importance of the African Union's Agenda 2063 for the future of the continent.
Climate change is ubiquitous now
Climate change will need to be taken into account in all future scenarios. This was underlined also by State Secretary Martin Jäger (Federal Ministry for Economic Cooperation and Development) who hosted the opening session together with Ms Diop. With its seven climate zones, Africa will be hit hardest by the consequences of climate change. Increasing desertification as well as more frequent and more intensive periods of draught contribute to the migration to big and medium-sized cities. Urban centres that have grown in an uncoordinated manner are often situated on the coast and bodies of water; flood prevention measures will therefore be of great importance as the risk of flooding increases with rising sea levels. Displacement as a result of desertification can – predominantly in the Sahel zone – result in armed conflicts. Also, tropical diseases are spread further due to climate change.
China as a (digital) hegemon?
Ethel Cofie, IT expert from Ghana clearly warned that China's influence on the continent continued to be underestimated by the West. For many ruling elites Chinese offers proved very tempting as they do not come with the 'annoying' human rights and good governance requirements of development cooperation. As a number of workshops showed, this applies to the financing of infrastructure and in particular to the security sector. When in the next few years the number of Internet users will cross the critical threshold of 50 % in many African countries, their governments will face a momentous question: Will they rather pursue a liberal-democratic model in the digital space or follow the example of repressive China?
Leapfrogging – "Growth is digital"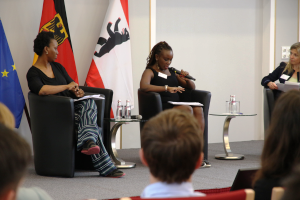 However, digitalisation may also be the big opportunity for a continent that never made the transition to the industrial age and already today is part of the global knowledge economy. Even if it is unlikely to become a 'Silicon Valley with seven climate zones', the potential is there: Low regulation could give many African countries a decisive competitive advantage. While Huawei is still being discussed in Germany, 5G is already available countrywide in Lesotho. Then there is the sheer number of young people greedy for knowledge for whom the Internet is part of their everyday life. Innovative online opportunities in the education sector may also solve the structural problems of advanced educational facilities.
What remains of the 6th Workshop Day? Both Africans and Europeans were consistent in their analysis of the problems. Now they must be solved – in a stringent and sustained manner, while daring to fail: Nanjira Sambuli, analyst from Kenya, summarised her vision of European commitment as follows: "Better done than perfect."
Another Workshop Day to take place next year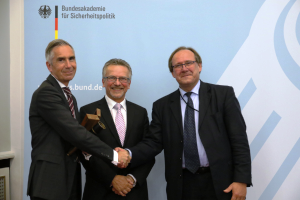 The 7th Workshop Day in 2020 will be hosted by the Federal Academy for Security Policy together with the Federal Ministry of Finance. Hans-Jörg Schäper, representative for the Federal Ministry of Finance, to whom Dr Stefan Oswald passed on the symbolic baton, stressed that there would be an abundance of exciting topics and urgent questions.
Authors: Editorial Office