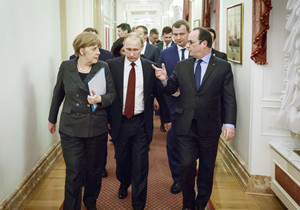 The Federal Academy for Security Policy expects Russia to remain on a confrontation course with the West.
"As long as Putin is in power, the West needs to remain prepared for a Russian confrontation course" said the Academy's President Karl-Heinz Kamp in Berlin. "And since the chances are high that Putin will stand for re-election in 2018, he will likely remain in office until 2024. During this time, the conflict between Russia and the West is unlikely to weaken."
Kamp stated that Russia had undergone a fundamental change in its foreign policy. "Putin sees his country as an anti-Western power. He is thinking in terms of spheres of influence – just like during the Cold War – and wants to increase his area of control. To achieve that, he will not hesitate to occupy sovereign states." The annexation of Crimea and the armed conflict in eastern Ukraine were cases in point, Kamp said.
Russia is striving for hegemony
"Russia wants to become a superpower again." This was why Putin had been deeply offended by US President Barack Obama's statement describing 'Russia as a regional power'. "If you ask Putin, the USA is the root of all evil. From his point of view, the power of the United States was the reason for the collapse of the Soviet Union. Putin never got over this. It is his aim to divide the USA and Europe, to question their institutions such as NATO and the UN and to weaken the EU as a political and economic alliance. For him, this includes: by almost any means."
Kamp is critical of Putin's relationship with Germany as well: "For Putin, an influential Germany is a thorn in his side. The propaganda offensive against Germany matches his overall plan to weaken the EU. In this, Putin is obviously, on the one hand, relying on financially supporting extremist parties to create unrest in Germany, and, on the other hand, on mobilising ethnic German immigrants from Russia that are loyal to Moscow and can be used as willing servants."
Many Russians love Putin
Kamp does not have any hopes for an imminent easing of tensions with Russia: "Putin is more popular at the moment than he has been in a long time. But in the end, this will not be enough." The Russians might be able to cope with suffering and, since the foundation of the Soviet Union almost one hundred years ago, had been used to tightening their belts again and again. "But if your fridge is empty, no propaganda will be of any help. But this level is far from being reached", said Kamp. "Putin is the strong leadership personality that the Russians want. The West should not pin its hopes on a coup against Putin."
Kamp therefore suggests: "Instead, the West should cooperate with Russia whenever and wherever mutual interests allow. But we should be on guard: Russia is simply too big to be ignored."
Author: Sira Thierij